Comprehensive News Analysis GK and Current Affairs Quiz PIB Gist of YojanaStatic GKBank/SSC/Govt Exam Quiz
Current affairs are an integral part of the general awareness section of the major government sector exams. To prepare for any competitive exam, one of the important sections to read and learn is general awareness. Exams like UPSC, Bank, SSC, RRB or any Government (Sarkari) Exam demand aspirants to be updated with what's happening in India and around the world.
To get the updated List of Current Affairs Articles, check the linked article. All the 2021 and 2022 current affairs related articles are being updated in the linked page. The candidates who are preparing for IAS Exam or various other government exams will find these articles useful for their preparation.
In order to prepare you for the challenges in the exam or competition you are aspiring for, we cover the periodic and category-wise yearly current affairs for UPSC and other types of competitive exams mentioned above.
Latest Current Affairs 2022 Compilations For Competitive Exams

Why is it important to read current affairs?
Current Affairs refer to the events of national and international importance relevant from competitive exams perspective like Civil Services Exam, Bank exam, etc. With the change in the pattern of examinations, questions related to current events and news have assumed a major role in deciding the fate of students.
Broadly, the type of questions asked in the general awareness section can be divided into two:
The static portion pertains to that section of the UPSC syllabus or other exams syllabus that doesn't change. For instance, the Revolt of 1857, the physical features of India, etc.
The dynamic portion pertains to current affairs. The best bet to cover current affairs is the daily newspaper and following credible sources like Press Information Bureau (PIB) and Yojana Magazine.
A good understanding of Current Affairs is central to success in the IAS exam, Government exams, or any competitive exam. The current affairs span subjects like history, geography, economy, environment and ecology, polity, science and technology etc.
Candidates should remain updated on current affairs that create headlines nationally as well as internationally. In fact, recent trends have shown that the static and dynamic portions of current affairs syllabus have significant overlap. The probability of encountering unexpected questions from current affairs in the traditionally static portions of the syllabus is quite high.
Aspirants can also get the list of important Topics for IAS Daily Current Affairs 2021 at the linked article.
BYJU'S Coverage of Competitive Exam Current Affairs
Current affairs coverage by BYJU'S include:
| | | |
| --- | --- | --- |
| Current Affairs 2022 | Frequency of Publication | Description |
| Comprehensive News Analysis (CNA) | Daily | The daily news analysed and classified as per the UPSC and other competitive exam syllabus. Keep updated with the daily current affairs from The Hindu. Make your newspaper reading simpler with Daily News Analysis by BYJU'S |
| Best of PIB | Daily | Press Information Bureau (PIB) articles selected for UPSC. Keep updated with the latest government policies, plans, implementations and achievements with PIB Summary on all Government schemes. |
| The Hindu Video Analysis | Daily | Free YouTube video lectures of the daily news from 'The Hindu'. Subscribe to channel 'BYJU'S IAS' for more |
| Static GK | | Go through and download the PDF of Important articles on various Static GK topics such as List of Space Research Centers & Units in India, List of Cabinet Ministers, RBI Governors List, etc. |
| UPSC Monthly Magazine | Monthly | The daily news compiled and classified for IAS preparation in a downloadable magazine in PDF format. Download the BYJU'S UPSC Monthly Magazine |
| Gist of Yojana | Monthly | Gist of the important articles in Yojana magazine for UPSC preparation. |
| Gist of Kurukshetra | Monthly | Gist of the important articles in Kurukshetra magazine for UPSC preparation. |
| Gist of RSTV | | Important programmes in Rajya Sabha TV like 'India's World', 'The Big Picture' and 'In Depth' analysed and summarised. Read more Gist of RSTV |
| Issues in News | | All major issues featured in the news analysed and provided in a crisp format. Read Issues in News for Govt Exam preparation |
| Economic and Political Weekly (EPW) | Weekly | Analysis of important articles from the EPW magazine; updated weekly. Read BYJU'S EPW – Economic & Political Weekly notes |
| Economy This Week | Weekly | Weekly Current Affairs updates of the important business news for IAS preparation; you can download the PDF notes and watch the video lectures as well; read 'Economy This Week' for updates on the business world |
| Topic of the Day | Daily | For Daily Current Affairs, read about a new topic every day in brief, get today's Topic of the Day |
| This Day in History | Daily | Read about the news and events that happened on this day, every day; get today's 'This Day in History' |
| Current Affairs Quiz | Weekly | Take a quiz on current affairs and general knowledge and evaluate yourself. Test your knowledge with Weekly Current Affairs Quiz. |
| Weekly Current Affairs Webinar | Weekly | Enrol for the weekly current affairs webinar taken by experts in the field. |
| Questions on Current Affairs | | IAS Current Affairs Questions for UPSC 2022-23. |
| The Hindu Video Analysis | Daily | For a better review of the latest news across the globe, candidates can refer to the Daily Video Analysis: The Hindu Newspaper. |
| International Relations This Week | Weekly | Detailed analysis of important international affairs by Prof Pushpesh Pant. |
| Sansad TV Perspective | Daily | Gist of the Sansad TV Program wherein topics of relevance are analysed for UPSC, check the link |
| AIR Spotlight | Daily | Summary of the discussion featured on AIR spotlight – a program where current affairs topics are deliberated upon |
Visit the linked article and check out the best Current Affairs app for UPSC preparation. This will help in providing 24×7 assistance with the latest news events from across the globe.
Stay updated with the IAS Daily Current Affairs by referring to the current affairs video comprising compiled news of national and international importance for respective days: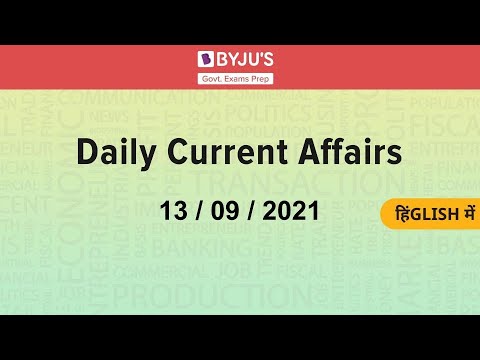 How to make notes on current affairs?
Aspirants can learn how to make current affairs notes by following three examples recently seen in the news:
The recent issue of Codes on Wages Bill is important from competitive exams' perspective. For making better notes on the issue, know about:

The origin of the bill
The purpose of the bill
The impact of the bill on the Republic of India
Debates for and against the bill should be studied by the aspirants as that can help in writing critical answers during UPSC Mains.

Group of Seven or G7 47th Summit was recently held. You should know:
Context – In June 2021, the G7 nations attended 47th summit of the grouping.
Nature – It is a first physical summit held in two years.
Related – Carbis Bay Declaration
For UPSC exam, align with UPSC Mains GS 2 syllabus
Another issue in the news has been Global Minimum Corporate Tax (GMCT). For notes, you need to include:
Context – The Finance Ministers of G7 nations during the 47th G7 summit reached the landmark accord of setting up Global Minimum Corporate Tax Rate (GMCTR), which would close cross-border tax loopholes used by some multinational companies.
Align it with UPSC prelims syllabus
For the above, you can refer to our detailed notes on Global Minimum Corporate Tax.
Indian Economy for UPSC, Bank exam, SSC and other Government exam is an important subject. The relevance of Economy in terms of UPSC current affairs is there in both IAS Prelims and IAS Mains. Recently, Union Budget 2021-22 has been in the news.
Get important Current Affairs Videos on our BYJU'S IAS Youtube Channel linked.
Also, check our Video Analysis of the Hindu for 30th May which contains the following Current Affairs topics:
Serosurvey Learnings
Probing the Origins of SARS-CoV-2 Virus
Declining Forest Bird Species in Western Himalayas
Sri Lanka faces Marine Disaster after Ship Fire
Pag-asa Island
Also, find videos on tough concepts and UPSC preparation strategies from IAS toppers.
Monthly Current Affairs for UPSC Prelims and Mains
Current affairs and general awareness can be the most scoring parts of the prelims and mains examination. Aspirants can easily get the latest current affairs for UPSC PDF at online portals, but the best and the most recommended method is by reading the newspapers on a daily basis and that too diligently.
Here is an analysis of the number of questions from each subject in the last eight UPSC Prelims (General Studies I) Exam: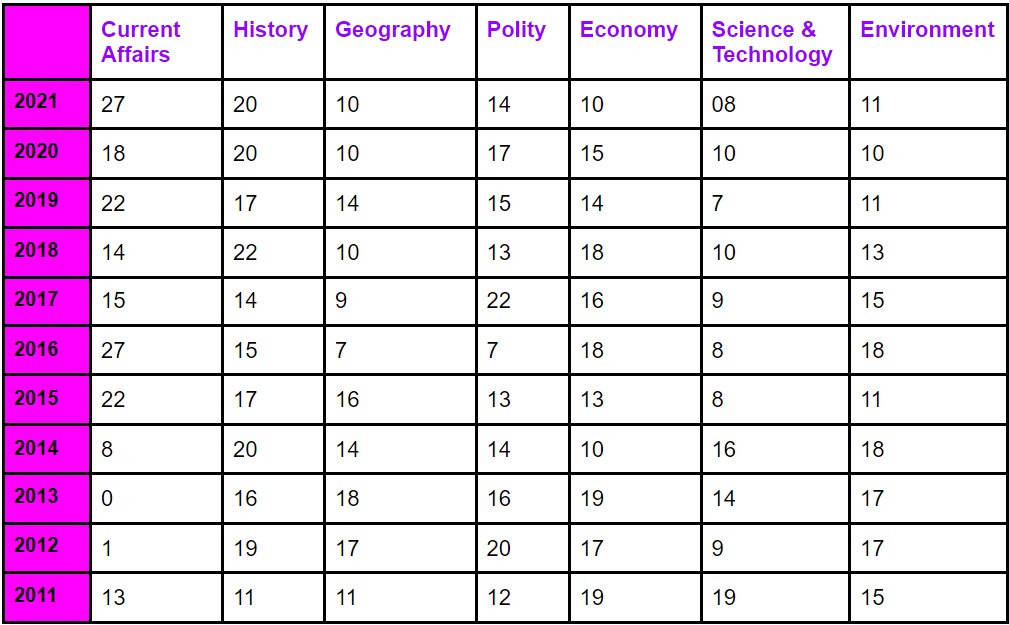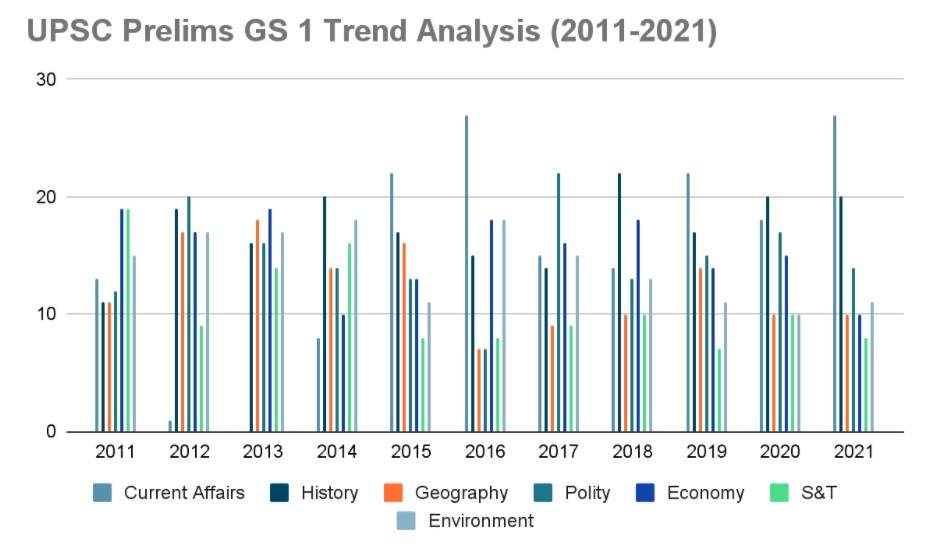 As is clear from this table, UPSC Current Affairs has been a major part of the IAS exam most of the time. Even when the count is low, the other subjects contain questions linked to IAS current affairs.
Aspirants have a tough time deciding what news items to read and what to avoid while preparing for the UPSC exam. This is where the guidance of experts will come in handy. Every day, there is a whole gamut of newsworthy events occurring in the country and worldwide. Now, out of all the noise, how do you select the Current Affairs relevant for IAS exam? Instead of spending a lot of time deciding which Current Affairs to read and study, and then making notes on them; what if you can get the daily news analysed and dissected especially for the IAS exam? This is exactly what BYJU'S UPSC Current Affairs offerings are all about.
Get details on the BYJU'S revolutionary IAS Tablet Course .

FAQ about Current Affairs for UPSC & Upcoming Govt. Exams
Which is best source for current affairs?
A daily newspaper is the best source to cover the latest current affairs. Current Affairs in English, Hindi or any other language should be religiously followed on a daily basis. After reading newspapers, candidates should fill in the gaps using any one online resource. This way, they can cover all the new current affairs.
Are Current Affairs 2021 useful in 2022 in UPSC Exams?
Yes, 2021 current affairs are of immense importance for 2022 exams as usually the State and Union Public Service Commissions frame questions based on current affairs spanning last one year. Hence, for UPSC 2022, current affairs 2021 (May onwards) are useful.
How to download daily UPSC current affairs PDF online?
Aspirants can visit the BYJU'S current affairs page and get the latest and updated current affairs on a regular basis. These notes are curated by experts and can act as a boon in UPSC preparation.
What is the percentage of current affairs questions in the UPSC Exam?
There is no fixed number of questions that may be asked based on the latest current affairs. The weightage of questions has varied over the years.