What Is NEET? – NEET Full Form
NEET or National Entrance cum Eligibility Test conducted annually by the NTA (National Testing Agency) is a medical entrance test carried out across the country. A successful attempt at NEET enables students to avail a seat in any of the medical programmes such as MBBS, BDS and various AYUSH courses offered in both government and private institutes of India. Following the "One nation One test" policy that was passed, NEET has emerged as the one-tier national level entrance test scrapping all the state entrance tests including AIIMS and JIPMER test.
The regulatory body for NEET, the NTA supervises the smooth conduction of this pen and paper test (offline test), which witnesses the participation of nearly 15-16 lakh students. NEET assesses students' knowledge through objective-question based (MCQ) questionnaire. NEET 2020 was conducted on 13th September after much delay which saw the registration of nearly 15.97 lakh candidates. NEET 2020 Admit cards were released on the official website on 26th August 2020.
NEET 2021 took place on 12th September 2021, registrations for the same commenced from 13th July 2021.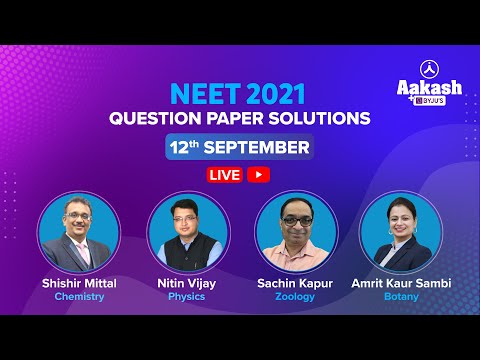 List of Contents
NEET 2021 – Changes Implemented From NEET 2021
The Medical Council of India has introduced a few alterations in NEET on the advice of the Union Health Ministry. The following changes have already taken shape and been implemented since last year.
NEET has successfully superseded AIIMS and JIPMER entrance tests
Students from the states of Andhra Pradesh and Telangana can now claim seats under the 15% All India Quota
Category-wise age limitation persists while the curtailment on the number of attempts has been uplifted
Wishing to pursue medicine in foreign lands? NEET is still required to be qualified
Furnishing an Aadhar card is now no more a compulsion while filling out the NEET UG 2021 Application form. A valid ID proof, however, must be produced
NEET 2021 Important Exam dates
Tabulated below is a list of events along with corresponding dates which every NEET 2021 aspirant must be updated. Watch out for the upcoming events as per the dates provided here:
| | |
| --- | --- |
| Event | Corresponding Date (Tentative dates) |
| NEET UG 2021 Exam Date | 12th September 2021 |
| Application form – Date of release | 13th July 2021 |
| Application form – Last Date Of Application | 6th August 2021 |
| Application form fee – Last date to submit | 7th August 2021 |
| Correction Portal Opens | 8th August 2021 to 12th August 2021 |
| Admit Card Release date | 6th September 2021 |
| NEET 2021 Answer Keys Released (Final set) | 1st November 2021 |
| NEET 2021 Announcement of Results | 1st November 2021 |
NEET 2021 Exam pattern – Complete Details
NEET, over the years, has been following the same pattern with a few changes incorporated as and when required. Take a look at the latest exam pattern of NEET 2021
Name Of The Test
NEET (National Eligibility cum Entrance Test)
Conducting Authority
NTA (National Testing Agency)
Mode of Exam
Pen-paper based (offline mode)
Number of candidates registered 
1614777
Exam Duration
3 hours or 180 minutes
Seats Offered
Admission of around 1.3 lakh MBBS and BDS seats under 15% All India Quota and 85% State quota
Courses Offered
MBBS, BDS, AYUSH and other related Courses
Number of Questions
180 questions (MCQs)
Type of questions
Objective type questions with 4 options out of which 1 is correct
Subjects
Physics, Chemistry, and Biology (Botany & Zoology)
Number of Questions from each section

Physics – 45 questions
Chemistry – 45 questions
Biology (Botany + Zoology) – 90 questions

Language
The question paper is asked in 13 languages – English, Hindi, Assamese, Bengali, Gujarati, Kannada, Malayalam, Marathi, Odia, Punjabi, Tamil, Telugu, and Urdu.
Marking Scheme
4 marks are awarded for each correct answer
Negative Marking
1 mark is deducted for each wrong answer
NEET 2021 Eligibility criteria – Who Is Eligible To Take NEET 2021?
Before starting to prepare for NEET, candidates must take note of the eligibility criteria for NEET 2021 and ensure to fulfil them. Provided below is a brief on the same.
Eligibility Criteria – Academic Qualification
Candidates must have cleared/appeared at 10+2 or an equivalent examination. Those who plan to appear for class 12 exams can also take part
Class 12 must be studied with majors in Physics, Chemistry, Biology/Biotechnology and English
A candidate must obtain a qualifying aggregate in the qualifying examination as listed below category-wise:
General category – 50% marks in the qualifying examinations
SC/ST/OBC category – 40% marks in the qualifying examinations
Physically handicapped: General category – 45% marks in the qualifying examinations
Physically handicapped: SC/ST/OBC category – 40% marks in the qualifying examinations
Eligibility Criteria – Nationality
An aspirant must be a citizen of India
OCI (Overseas Citizen of India) are eligible
Non-Resident Indians (NRIs) are eligible
Foreign Nationals are eligible
Persons of Indian Origin (PIOs) are eligible
Candidates, under the 15% All India quota only by self-declaration, from the state of Jammu & Kashmir are eligible to participate in NEET 2021. These candidates can avail themselves seats in AFMC, Pune too
Eligibility Criteria – Criteria of Age
A candidate of any category must have completed 17 years as of December 31, of the year of admission
Till the Supreme court passes a judgement, there is no limit on the upper age cap
Eligibility Criteria – Possession of Aadhar Card
As discussed earlier, possession of an Aadhaar card is no longer a mandate if you wish to appear at NEET. NEET aspirants from the states of J & K, Assam and Meghalaya can provide passport numbers, ration card numbers, bank account details or any valid ID details. OCI, NRIs, PIOs and other such nationals can render their passport numbers for the same purpose.
NEET 2021 Application Form – Step-wise Process, Documents Required, Mode, Fee Structure
NEET 2021 application form is made available to download on the official website of NEET from 13th July 2021. The entire process of filling and submitting the application form for NEET 2021 is through the online mode. Application forms sent through any other mode shall not be accepted by the NTA. As soon as the application form is released, the official website flashes an "Apply Online" link. Clicking on it will take you to the application form for filling.
NEET 2021 Application Form Filling – Step-by-step Process
Visit NEET's official website – ntaneet.nic.in
Click on the "Apply online" link that is flashing at the bottom
The link directs to the application form page. Start filling the form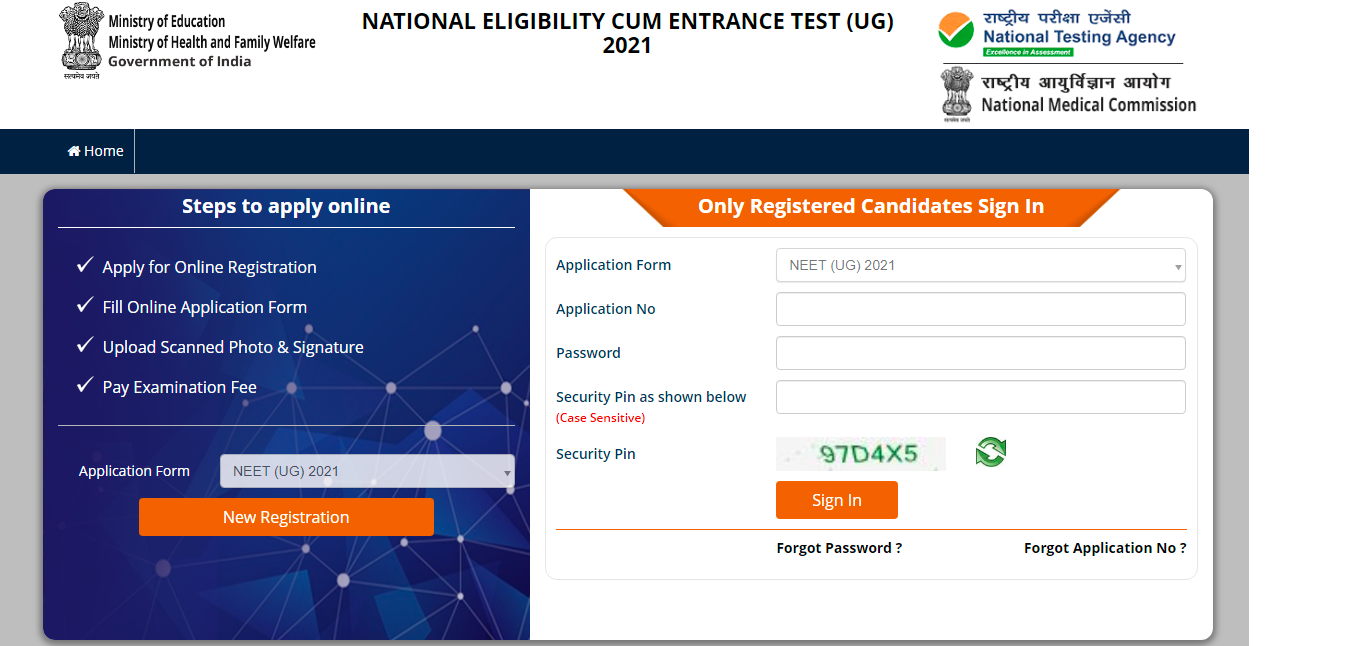 Go for new registration. Some details asked are name, mobile number, e-mail id, Date of Birth, Nationality, Category, Academic details (Year of Passing, marks obtained in percentage), preference of exam centre. etc
The next step requires candidates to upload scanned images of documents with the required specifications (format and size). Ensure to upload documents with the prescribed size and format only, to avoid any hindrance
Application fee for NEET can be made through the offline or online mode
Carefully read all the entered details before finally submitting as some details cannot be changed at any stage later on
After submitting, the screen displays a confirmation page. Take a printout of the same for any future reference
After successful completion of the process, candidates are provided with a provisional registration number. This is conveyed through the unique registered mobile number and e-mail id.
Related: NEET Photo size
NEET 2021 Application Form Filling – Documents Required
Provided below is a list of documents that must be uploaded when filling the application form for NEET 2021 online:
Recent passport size photograph
Recent postcard size photograph
Left thumb impression of the candidate
Mark sheet of class 10
Candidate's signature
The NTA clearly specifies the size and format of the documents, which is provided in the table below. Candidates must ensure to upload all the documents with the mentioned specifications only:
Name of the Document
Specification provided by NTA
Size of file

(JPG/JPEG format)

Description for Online Tool

(with 72 DPI)

Passport size photograph
Not specified
10 Kb to 200 Kb
2.5 X 3.5 inches
Post card size photograph
4″X6″
50 Kb to 300 Kb
4.25 X 3.5 inches
Signature of the candidate
Not specified
4 Kb to 30 Kb
2.5 X 3.5 inches
Left-thumb impression
Not specified
10 Kb to 50 Kb
2.5 X 3.5 inches
Class 10 Marksheet
Not specified
100 Kb to 400 Kb
2.5 X 3.5 inches
NEET 2021 Application Form Filling – Application Fee For NEET 2021
| | |
| --- | --- |
| Category | Fee Amount |
| General | INR 1500/- |
| General-EWS/ OBC-NCL* | INR 1400/- |
| SC/ST/PwBD/Third Gender | INR 800/- |
As applicable, the processing charges & Goods and Services Tax (GST) are to be paid by the candidate. The fee for candidates outside India is INR 7500/-.
NEET 2021 Application Form Filling – Mode Of Payment
The fee for the application form for NEET 2021 can be paid either through the online mode or the offline mode
| | |
| --- | --- |
| Online mode | Offline mode |
| Credit card/Debit card/Paytm/Net banking | Bank Challan |
NEET 2021 Application form – Correction Facility
Once the application form for NEET 2021 has been submitted, a few fields cannot be edited. Hence, students are strictly advised to carefully glance over the application form before finally submitting it. However, candidates are allowed to make changes to some fields of the application form through the online mode again. In order to know when and how students are recommended to regularly visit the official website for NEET for the latest notifications on the re-opening of the correction portal.
If the officials find blurry images of scanned documents or any such inconsistencies, the same will be intimated to the candidate via the registered mobile number or email address. Through the correction facility, one can make changes (if any) to details such as – Gender, date of birth, category, identification, state code of eligibility, the language of the NEET question paper, exam centre details, parents' name, percentage of the qualifying exam, etc. Some fields require additional payment to be made for changes. The transaction can be carried out via Credit/Debit card or net banking.
Additionally, candidates must make note that the candidature can be rejected in case the incomplete form is submitted. Also, once the form has been submitted, no further changes can be made.
NEET 2021 Admit card
Candidates are provisionally issued with the NEET 2021 Admit card which is subject to eligibility criteria fulfilment. Admit cards for NEET 2021 were released on 6th September 2021.
Where is the NEET Admit card functional?
The NEET admit card must be produced in front of the invigilators/supervisors on the day of the exam. Furthermore, the admit card for NEET is required to be carried to the counselling rounds and is a useful document until one finally gets admitted to medical institutes.
Some details mentioned on the NEET Admit card:
Name of the candidate
Father's name
Roll number
Category
Date of examination
Photograph
Exam centre venue – name and address
Duration of exam
Reporting time
Admit cards can be downloaded through the online mode only. It shall not be posted. In no case shall the NTA issue duplicate NEET 2021 Admit cards at the exam centre. Download and take a printout of the same. The NTA alongside releasing the admit cards, also specifies the format to affix a postcard photograph on the admit card. If candidates find any inconsistency in the details on the admits cards, official authorities for NEET can be contacted.
One must ensure to reach the mentioned exam venue much prior to the commencement of exams for smooth conduction of frisking and security checks. No candidate other than the allotted ones will be permitted to appear at the centre on the specified date and time. Candidates are advised to preserve and maintain the hall ticket for NEET in good condition for further reference.
NEET 2021 Admit Card – Steps To Download
Visit the official website for NEET
Click on the NEET 2021 Admit card download link
Fill up the required details – Date of birth, application number and security pin
Recheck the details entered
Submit details
Screen now displays your admit card
Verify and download
NEET 2021 Syllabus
The syllabus for NEET is recommended by the National Medical Commission of India (NMC) for admissions to medical courses across India. The NEET 2021 syllabus has been issued after a thorough review of different state syllabi in addition to the curriculum composed by NCERT, COBSE and CBSE. This is in order to ensure uniformity in imparting medical education across the country while maintaining relevance.
Read through the syllabus for NEET 2021 from class 11 and 12
NEET 2021 Physics Syllabus
| | |
| --- | --- |
| | |
| Class 11th Syllabus | Class 12th Syllabus |
| Physical world and measurement | Electro statistics |
| Kinematics | Current Electricity |
| Laws of Motion | Magnetic effects of Current and Magnetism |
| Work, Energy, and Power | Electromagnetic induction and alternating currents |
| Motion of systems of particles and rigid body | Electromagnetic waves |
| Gravitation | Optics |
| Properties of Bulk Matter | Dual Nature of Matter and Radiation |
| Thermodynamics | Atoms and Nuclei |
| Behavior of Perfect Gas and Kinetic theory | Electronic Devices |
| Oscillations and wave | |
NEET 2021 Chemistry Syllabus
| | |
| --- | --- |
| Class 11th Syllabus | Class 12th Syllabus |
| Some basic concepts of Chemistry | Solid state |
| Structure of atom | Solutions |
| Classification of Elements and Periodicity in Properties | Electrochemistry |
| Chemical Bonding and Molecular structure | Chemical Kinetics |
| States of Matter: Gases and liquids | Surface Chemistry |
| Thermodynamics | General principles and Processes of Isolation of Elements |
| Equilibrium | P Block elements |
| Redox reactions | D and F block elements |
| Hydrogen | Coordination compounds |
| s-Block elements (Alkali and Alkaline earth metals) | Haloalkanes and Haloarenes |
| Some p-Block elements | Alcohols, Phenols and Ethers |
| Organic Chemistry – Some basic principles and techniques | Aldehydes, Ketones and Carboxylic Acids |
| Hydrocarbons | Organic compounds containing Nitrogen |
| Environmental chemistry | Biomolecules, Polymers and Chemistry in everyday life |
NEET 2021 Biology Syllabus
| | |
| --- | --- |
| Class 11th Syllabus | Class 12th Syllabus |
| Diversity in the Living World | Reproduction |
| Structural Organisation – Plants and Animals | Genetics and Evolution |
| Cell Structure and Function | Biology and Human welfare |
| Plant Physiology | Biotechnology and its applications |
| Human physiology | Ecology and environment |
Check out: NEET Weightage
NEET Preparation 2021
All candidates aspiring to outshine at NEET must pull up their socks and kick-start their preparation. The application forms for NEET shall soon be released, post which a student only gets engaged with other formalities of NEET. So, if you think you have sufficient time, you might want to rethink. Get started now. Pay attention to and follow this simple guideline to prepare for NEET.
NEET 2021 Preparation – To-do list
1. Familiarize yourself with the exam pattern for NEET 2021
2. Sift through the NEET syllabus, chapter-wise weightage and previous years' trends
3. Devise a study plan/timetable
4. Compose notes
5. Resolve question papers, take up mock tests
6. Get your doubt cleared
7. Prioritize chapters and gain conceptual comprehension
8. Take up daily/weekly/monthly assessments
9. Analyze your performance, reward yourself on progress, identify weak areas and work on them
10. Stay focussed and motivated. Avoid social media engagements as much as possible.
More here: Best Books for NEET
NEET Results 2021
The NTA evaluates the answer scripts of candidates with the help of standard protocols. The results will be displayed on the official website for NEET post which candidates can download their result sheets. Based on the results, the NTA organizes the merit list in accordance with the directions laid down by the Ministry of AYUSH Admission Central Counselling Committee and DGHS.
To download the results, candidates must login with their respective roll numbers and other details provided at the time of registration. The result sheet must be downloaded and carried to the counselling rounds. Additionally, the NTA also announces the NEET 2021 cut-off.
NEET 2021 Cut-off
Every candidate must successfully clear the cut-off score specified by the NTA for that particular year. NEET Cut-off is the minimum score for qualification. In addition to the results, the NTA also releases the cut-off score for the year. Basis this score, a merit list for counselling takes shape.
Cut-off score is subject to change every year. It depends on certain criteria such as –
Number of candidates participating at NEET that year
The difficulty level of paper
Cut-off differs category-wise. Upon successfully clearing the cut-off, candidates must register themselves for NEET 2021 Counselling process voluntarily. It typically is organized a few weeks after the results are declared.
Also see: In NEET What Is The Difference Between Qualifying Marks And Cut Off
NEET 2021 Answer Key
NEET Question paper comes in a series of codes. The NTA officially declares the NEET answer keys for all sets of question papers once the exam has been conducted. This activity usually takes a week's time after NEET. In addition to the answer keys, the NTA also uploads the OMR response sheets of all candidates, for them to check and verify their responses against the official answer key set.
If students find any disparity while verifying, the same can be challenged for which a fee of INR 1000/- per challenge must be paid. The time allotted to challenge is 2 days only.
Steps to Download NEET Answer Key 2021
Go to the official website for NEET
Login with your roll number and password
Click on the link – NEET 2021 Answer key
Download answer key
More: Display of OMR and answer key
NEET 2021 Reservation – Seats Availability
Students upon successfully clearing NEET, voluntarily register themselves for the counselling process. Seats are allocated through these two quotas-
AIQ (All India Quota)
State quota
15% of seats are reserved under the AIQ out of the total seats for medical courses. Under this quota, students across the country can apply to avail of a seat. The remaining 85% of seats are reserved under the State quota. Candidates from respective states can apply under this quota. Counselling at the state level decides the seat allotment under this quota wherein states specify their own protocols.
See more: NEET UG and state quota
This was a detailed write-up on NEET-UG 2021. To get the latest news on NEET UG 2021 and others details, visit BYJU'S.
Related articles:
Frequently Asked Questions on NEET 2021
Will NEET 2021 be conducted twice this time?
There is no official statement on NEET 2021 being conducted twice as of now. However, some reports suggest upon NEET 2021 being conducted twice owing to the COVID-19 situation. The decision is still underway. Visit the official website for the most reliable and latest information on the same.
Who conducts NEET 2021?
NEET, the medical entrance test is conducted by the NTA (National Testing Agency). It conducts the test every year for admissions to medical programmes in various medical universities across the country.
When to start applying for NEET 2021?
The application form for NEET 2021 was made available from 13th July 2021 onwards on the official website. Students could start filling the form online.
What will happen to NEET 2021?
As of now, there is no official notification stating the postponement of the NEET-UG 2021 exams. Also, there is no news on the conduction of NEET twice in 2021. Hence, students are suggested to wait for official news and meanwhile prepare with the same zeal for NEET-UG 2021.